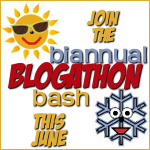 On June 22nd, the Biannual Blogathon Bash kicks off! In preparation, many blogs will be posting challenges over the next few days. Aren't participating? Be sure and sign up! If you don't want to participate, feel free to use the following post, but only participants are eligible for Blogathon prizes.
To be eligible for prizes, you must wait to complete challenges. They are just being posted early so that you can add them to your to do lists.
Using Google Calendar
One tip I always give new bloggers who ask me what I wish I'd have started when I began blogging is start a calendar or schedule. I'm not saying be strict about it! You can if you like that, but even the most spontaneous blogger can benefit from at least a guideline. I know a lot of bloggers think scheduling is "boring". But that's the best part about using an electronic schedule, you can easily move things. I have book blogger friends that use this concept, but do it with release dates of books instead of post dates! That way they know when the books are coming out and can read accordingly.
Non-book bloggers can schedule whatever fits their niche! For example, if you do a weekly interview series – you can have that listed and who it is. If you do sponsored posts, it's a great way to keep up with them. (I also do reminders of deadlines to get things to people – like an author I'm interviewing.) There are so many ways to use Google Calendar for different types of blogs.
Since Letters Inside Out is a book blog, what I have done is created a separate calendar for each type of post and source of books, all on the same account so that I can easily see all of them or "hide" those so I can only see what I need to.
As you can see in this image, I have 10 calendars (left) and a task list (right). For the task list, I usually only keep a few of my most urgent posts there. You can click items to mark them as "done".
When I first started using a calendar, I just put everything on one calendar. It worked, but I kept finding myself forgetting where the information I needed was. So I created different color codes and abbreviations for everything.
Example: I know everything in brown – is for a blog tour. I also use "GP" (guest post), "INT" (interview),
"GA" (giveaway), or "CR" (cover reveal) to denote any special types of posts that require a bit more work than just a review. I always put the codes before the book title, that way I know at a glance whether I'm reading that book for that post or not.
Another plus? Alerts. Depending on how you set the functions you can have it push them to which ever device (see the syncing section below) or have it email you! I typically only do this for anything big I'm bound to forget or for "real life" events – like appointments.
In the description section I made any notes or contacts I might need. That way I know who to contact if something doesn't show up.
This is also where you can enable sharing for events! If you do any big blogging events with multiple people, you can easily create a calendar and share it! You can make it read only or you can make it so they can update.
This is the "Agenda" feature. It shows all upcoming things in a list format. Makes it so easy to see what is to come at a glance! This is what I use on my other devices, which brings us to syncing and using apps.
Now comes the fun part – syncing it!
With today's technology, most of us have some sort of handheld devices to use e-readers, tablets, iPods, or smartphones.
Note: None of the below links are affiliated with LIO. I gathered them through my own personal research and browsing on the internet. I've not personally used all of these,  I've noted those instances. Not all apps may work for your device, but some "shopping" should help you find one that is! 
Apple products: I have an iPod Touch, I use the stock calendar, because I typically don't look at my calendar on my iPod! I have so many other devices and I rarely read with my iPod handy. (I also asked a friend, who only uses the stock on her iPhone and iPad.) If you want to go this route, there's a great tutorial to setting it up on Google's website.
If you would rather go with an app and are willing to spend a little money, when searching I came across CalenGoo (6.99) and Calendars 3.
Android products: Up until when I started researching for this post, I was still using the stock calendar. To be honest, for what I use it for – the stock calendar is great. But some of these alternatives are so pretty!
From that list, I tested Business Calendar Free and Jorte; both on a smartphone AND on a HP Touchpad tablet. Of the two, I preferred Jorte on both devices. (Business Calendar *free version* was a bit hard to read on my phone and on the tablet it was better, but on the month view I can't see the book titles at a glance. Kind of a deal breaker for me.) Jorte looked great on both and was easier to tweak to do what I want.
Nook Color/Tablet: For the NC, there is no stock calendar. To be honest, I use the web browser to go to the website! It looks and works great.
Kindle Fire: I don't have access to one to "play" with, but with some searching the cheapest and most recommended option I found for you was CalenGoo (5.99). The plus is you can sideload apps to the Kindle Fire, so check out some of the Android app suggestions, if you'd rather do that!
There are TONS of other options – look around and find one that suits you! If you have one you prefer, feel free to mention it in the comments.
Challenge
I want to challenge you to create your own color-coded calendar and explore it! Set up a few email alerts. Set it up your way, just set one up! See if it makes everything just a bit easier to remember.
Already have a Google Calendar? Your challenge is to update it and maybe use some of my tips!
Be sure and comment (or do a post and link it in the comments) to let us know how you plan on using it and if you tried out an app!